BMW Wheel Alignment Services in Columbus
Wheel alignment service involves one of our technicians inspecting and adjusting your vehicle's camber, caster, and toe angles. Techs may also check and recalibrate front and rear seating as well as your suspension system. Professional alignment service can ensure that your BMW drives the way that it is meant to. When you're in the Columbus, OH area, you can turn to MAG BMW Dublin professionals for expert alignment service. Our state-of-the-art service center can provide you with quality services, so your wheels are meeting the road effectively.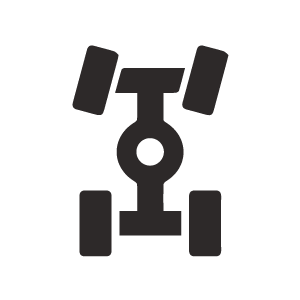 Four-Wheel Alignment
This alignment service is standard for BMW models with an AWD powertrain. It includes checking and adjusting all three wheel angles on all four wheels.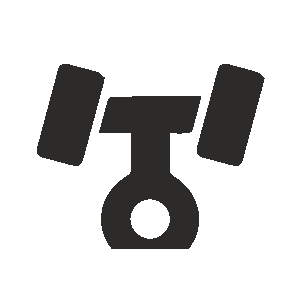 Two-Wheel Alignment
This alignment service is standard among front-wheel-drive BMW models. It includes checking and adjusting all three wheel angles on your front two wheels.
Signs Your Wheels Are Misaligned
Driving your BMW when you've got a severe misalignment can lead to big problems. The good news is that there are plenty of signs to tell you when it's time to schedule the service. Some of the most common issues you'll notice include::
 Your vehicle pulls to one side
 The steering wheel feels off-center
 You notice uneven tire wear
If it's been a while since your last alignment, you have just gotten new tires, or you're experiencing other problems, it's best to bring it in for a BMW alignment check. We'll be able to take the measurements and determine if there's a problem. Inspections can even be done if you have brought your vehicle in for other preventative maintenance - like an oil change or tire rotation.
---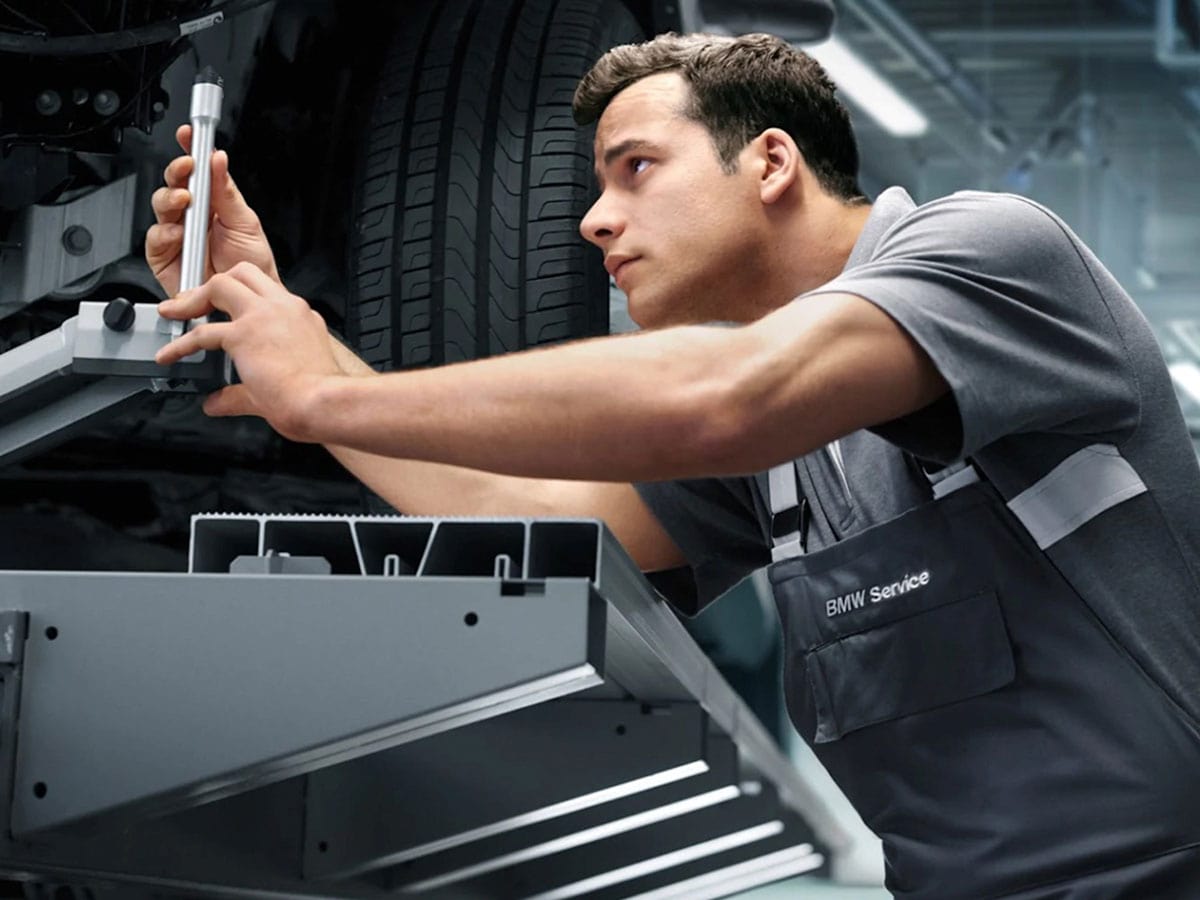 Wheel Alignment Coupon - For your next wheel alignment service, we invite you to check our current special!
The Importance of Wheel Alignment
Wheel alignment helps to fix what happens as you drive around town. Whether you're in Westerville, Hilliard, Worthington, Columbus, or anywhere else, you're bound to come across road obstacles that will impact your alignment.
Your wheels need to point straight, and the tires should be centered in the wheel wells. If the angles are wrong, it can lead to issues with the way your tires touch the road. You might have problems with steering, excessive tire wear, and even keeping your BMW on the road.
An alignment addresses the improper angles. We use an alignment machine to measure the angles and adjust to meet your BMW model's specs. We'll even provide a report to show you what the measurements were before coming in and after the alignment.
How MAG BMW Dublin Professionals Can Help Realign Your Wheels
It would be best if you always chose a service center that you can trust. At MAG BMW Dublin, we have an impressive service center with all of the latest diagnostics and alignments. We're able to perform the services you need quickly and with the help of certified technicians.
We know the BMW models backward and forward because we're factory certified. It makes a difference to ensure that your BMW is getting the service that it deserves. We use genuine OEM parts and provide a complimentary multi-point inspection with every service. It allows us to identify anything beyond a misalignment that could cause problems down the road.
While you're visiting, you can also check out our parts and gear boutique. It's a chance to customize your BMW a little further so that it looks great and meets your needs even more than it already does.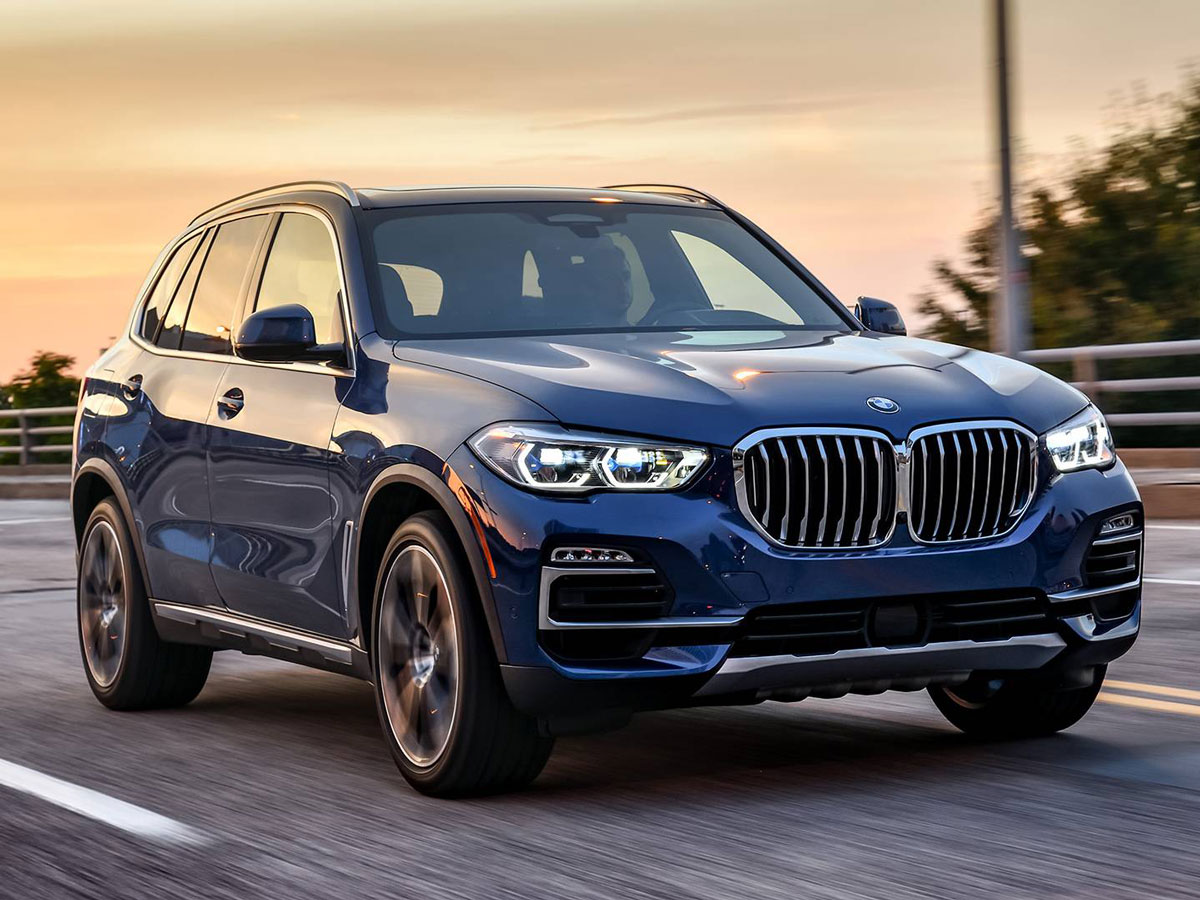 ---
Two-Wheel vs. Four-Wheel Alignment
You have the option of a two-wheel alignment or a four-wheel alignment. The services are just as they sound - one handles only the front two wheels (front-wheel drive) or rear two wheels (rear-wheel drive) or all four wheels (all-wheel drive).
A two-wheel alignment is popular among front-wheel-drive BMW models when they experience rapid tire wear or pulling that signals an alignment problem. Suppose you see rapid wear on your BMW's front tires. In that case, we invite you to get a quick inspection by our certified technician and a corrective two-wheel alignment service as needed. A four-wheel alignment is best for BMW models with an AWD powertrain. It includes adjusting the wheel angles at all four of the wheel locations.
Frequently Asked Questions
Q: Is wheel alignment necessary?
A: Absolutely. You can encounter several problems if your wheels aren't correctly aligned - and you'll notice not only excessive tire wear but also lower gas mileage.
Q: Can an alignment check be done visually?
A: No. You'll want to make sure alignment is done using a machine that will measure the angles. Sometimes, even the finest of misalignments can lead to problems on the road. Let one of our trained technicians run a check for you within our service center.
Q: Will a misalignment affect my tires?
A: Yes! When you don't have properly aligned tires, it can cause the tires to hit the road at incorrect angles. It leads to more wear and tear on the tires and may cause you to replace your tires more frequently. With an alignment check, we can identify if it's time to schedule the service.
Q: How is wheel alignment completed?
A: An alignment should be completed at least once a year. If you drive on dirt or uneven roads often, it may be advantageous for you to schedule the service two or three times a year. Look for the warning signs and schedule an appointment as needed.
Q: How often should I get my wheels aligned?
A: Alignment checks should be conducted every time you get new tires. Additionally, it should be done if you hit a curb or pothole if you're involved in an accident, or at least once a year.
Q: Is wheel balancing and wheel alignment the same thing?
A: No. Wheel balancing is a process where weights are added to the tires to deal with some imperfections. Wheel alignment has to do with the angles of the wheels. Balancing will be done automatically when new tires are installed where alignments are a completely different service.
Book Alignment in Columbus, OH
When you notice that your BMW is suffering from a wheel misalignment, you need to get your vehicle in for service. At MAG BMW Dublin, we have the extended hours and Saturday service hours to offer you convenience. Please book your appointment online or give us a call.
We can make it even easier for you to get your service. Please take advantage of our courtesy loaners or use our home/office pickup and drop off service. If you're going to wait, our lounge offers everything from WiFi to flat-screen TVs to occupy you. And don't forget about our vehcile spa!
We'll work quickly and efficiently to get you aligned and back on the road right away. Make your appointment today and see how a proper wheel alignment can help the performance of your BMW.
Complimentary Amenities
Free Wi-Fi
Complimentary Multi-Point Inspection
Courtesy Loaners
Courtesy Transportation Shuttle
Business Workstations
Parts & Gear Boutique
Complimentary Beverage & Coffee Bar
Newspapers & Magazines
Certified Technicians
Comfortable Waiting Area
State-of-the-Art Facility
Extended Hours
Saturday Service Hours
Home / Office Pick-up & Delivery
Flat Screen TVs