MAG BMW Dublin Tire Center
A good set of tires is vital for your BMW to perform at its full potential. There are many tires for you to consider based on the model you own and how you drive. Caring for your tires is essential to their overall performance and lifespan. At MAG BMW Dublin, we're here to help you with all of your tire needs - from rotation to installing a new set - we can take care of it all.
Tire Sales & Services in Columbus, OH:
Tire Inspections
Each time you bring your car in for service, we can complete a tire inspection. One of our technicians will check the pressure and tread. Inspections include looking for small cracks and holes, measuring tread depth, and more
Tire Balancing & Rotating
Tire balancing and rotation service should be done about every 6,000 to 8,000 miles. This milage interval can be easy to remember as we recommended rotating your tire along with every oil change, or every-other depending on the type of oil your vehicle uses.
All cars are built with a weight that is not perfectly balanced. Driving puts a lot of force on each tire differently. When you have your tires balanced, it can reduce the imbalance on your BMW. And rotating your tires will ensure that they wear evenly, which is critical to their performance.
Wheel Alignment
Have you taken your hands off the wheel for a second while zooming down the highway? If your wheels are in alignment, your car should continue to go straight, but if they are not, you may veer to one side or the other. Each wheel has three angles, known as the camber, caster, and toe. During alignment services, two-wheel or four-wheel, we work to check and adjust all of these. Once re-aligned, your vehicle will perform as it should.
Tire Sales
With inspections, repairs, and maintenance, you can extend the life of your tires. However, at some point, you'll need to buy a new set. After a few years of driving, the tread will wear to the point you'll be looking for tires for sale in Columbus. You can visit our tire center at MAG BMW Dublin to shop for new tires. Our specialists will talk to you about the various options to ensure you get affordable tires that help your BMW perform the way that it was intended.
---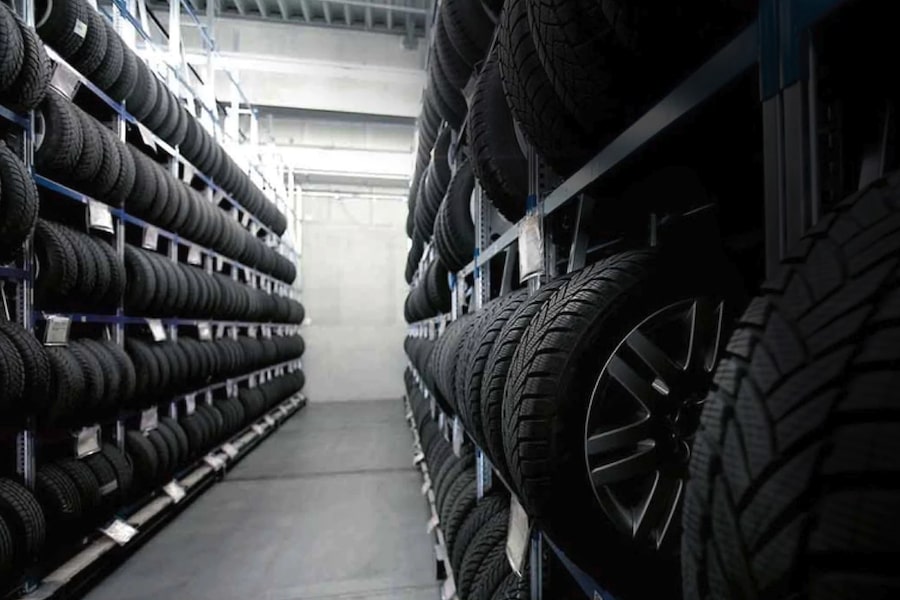 How Car Tires Vary
Where you drive and what conditions you drive in will determine what kind of tires are right for your BMW. The right set of tires will make all the difference in your drive, efficiency, and performance.
Touring/All-season
Performance
SUV Highway
Studded winter
Studless winter
As you drive around Worthington, Westerville, Hillard, Columbus, and beyond, you may find it advantageous to change your tires periodically (with the change of seasons). Most BMW models do well with touring/all-season tires. However, many of the sportier models can also benefit from a performance tire.
Why Regular Tire Inspections Are Important
The last thing you want is a blowout as you are driving down the road. By getting your tire inspected with us at MAG BMW Dublin, we can almost ensure that a blowout won't happen. Regular inspections allow us to identify the tire's remaining lifespan and recommend when you should replace your tires or get them serviced.
When tires start to lose their tread, you're more likely to get into an accident. You may not have sufficient friction on the road. Further, when the roads become wet or icy, you may not be able to come to a full stop.
When you visit our tire center, we'll inspect various aspects of your tires:
Tread
Sidewall
Air pressure
It's a good idea to have your tires regularly inspected to address issues as they happen.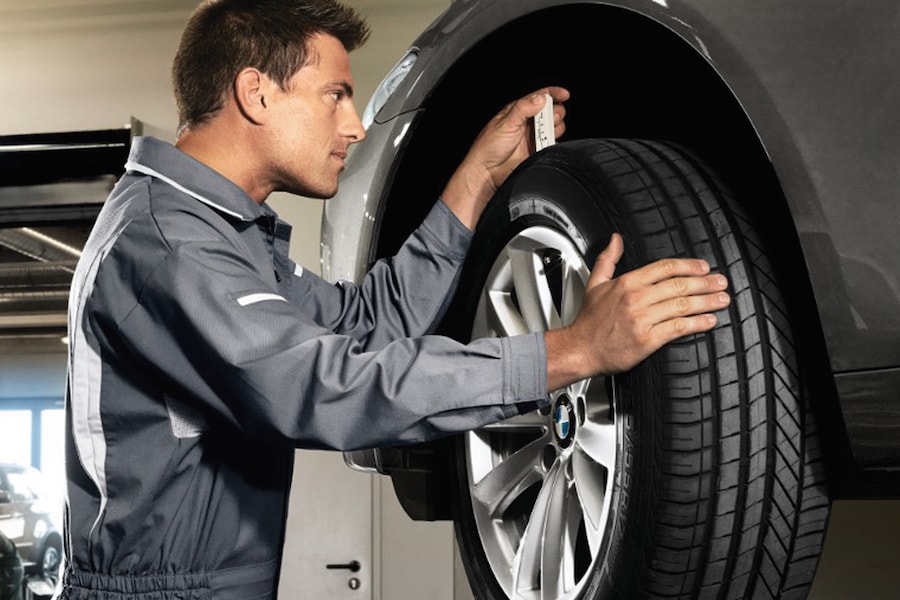 FAQs
Q: What Is the Recommended Tire Pressure?
A: You can often find the tire pressure (PSI) recommendations for your BMW in the door jam of the driver's side door. With the help of a pressure gage, you can make sure your tires are always at the recommended pressure levels.
Q: How Long Do Tires Last?
A: Most tires, if inspected annually and maintained on-time, should last around six years. Of course, this is also dependent on the kind of mileage you put on your car regularly.
Q: What Is a TPMS?
A: Many of the newer BMW models have a TPMS or tire pressure monitoring system. It allows you to find out if a tire's pressure is too low or high simply by looking on your dashboard.
Q: Can nitrogen be used to inflate tires?
A: Many tires, such as Bridgestone, can be inflated with nitrogen. Using nitrogen helps maintain inflation because PSI doesn't fluctuate dramatically as temperature or altitude change.
Q: How Does a Winter Tire Vary From Normal Tires?
A: The rubber compound hardens when it gets colder. Additionally, the tread is more flexible, ensuring that the tires get a good grip on the road.
Q: Can I Mount My Own Tires?
A: It's never a good idea to mount your tires. Our tire center is equipped with the necessary equipment to mount the tires. Additionally, we have an alignment machine as well as the tools for balancing. It ensures that you get your tires mounted, balanced, and aligned to avoid issues on the road.
How MAG BMW Dublin Tire Professional Can Help
MAG BMW Dublin is a certified BMW tire center. Our certified technicians can recommend specific tires for your car or SUV. Additionally, we can perform inspections and services.
You can call us ahead of time to find out if we have the tires you need in stock. If we don't have them, we can often get them within 24 hours. It ensures you get the right BMW tires to help you feel safer on the road.
When we install the tires, we can perform a balancing - and any other preventative maintenance services you might need, such as alignment. Relax in our customer lounge with WiFi and a complimentary coffee bar or arrange a loaner vehicle.
Book Your Next Tire Appointment or Shop Our Tires Online
Taking care of your tires in and around Columbus, OH, is simple. With one visit to MAG Dublin BMW, we can help you take care of your luxury car or SUV. Let us help you shop tires for sale, schedule a tire service, or learn about the many other services that we offer. We can also perform a complimentary multi-point inspection when you come in.
With the help of our certified technicians and our state-of-the-art service center, we're here to make sure your BMW gets the support it needs. Wait in our lounge, ask for a loaner, or even use our courtesy transportation shuttle. You can call for an appointment or use our online service scheduling tool. With extended hours during the week and Saturday service hours, we make it easy for you to come in.
Complimentary Amenities
Free Wi-Fi
Complimentary Multi-Point Inspection
Courtesy Loaners
Courtesy Transportation Shuttle
Business Workstations
Parts & Gear Boutique
Complimentary Beverage & Coffee Bar
Newspapers & Magazines
Certified Technicians
Comfortable Waiting Area
State-of-the-Art Facility
Extended Hours
Saturday Service Hours
Home / Office Pick-up & Delivery
Flat Screen TVs